What you need to know before writing your business plan in Germany
Here are a few tips for drawing up a realistic business plan, with an accurate assessment of costs and deadlines. This is an essential step, because this is where you will judge your future customers. In Germany, particular attention is paid to the seriousness of the business approach. Do not hesitate to ask for advice. Germans are risk-averse and often tend to take a long time before making a purchasing decision. It is therefore advisable to have a breath of fresh air.
THE EXPERT'S ADVICE - « We don't do lucky shots! »
Didier Lenhardt, sales representative for Germanic countries for a French SME:

« You don't try to go to Germany, you don't make "moves" to go to Germany. You either go or you don't! It's a strategic decision, which will only pay off after a while. »
YOUR SCHEDULE
The three phases of commercial establishment
There's no need to be too optimistic! A move to Germany should take four to five years. Don't expect to sign your first sales for at least two years! And don't give up until that fateful 24-month deadline - that's usually when everything gets unblocked.
FIELD EXPERIENCE - « Withdrawing before 24 months is a monumental waste! »
To better convince you, read the experience of Nicolas, sales representative in Germany :

« Many German trade fairs take place every two years. At the first trade fair, you have your own stand, you have a few touches. Over the following months, these prospects will receive you, take a look at your product. It is only at the next trade fair that you will eventually sign your first contracts. Some groups even say: your company is too young, you have to wait until you are two years on the market before we can do business with you. But some French companies get discouraged precisely at the end of a first VIE contract, after 24 months, when the company takes off. It's a monumental waste! »
« I'm only now seeing the change in perspective in the prospects. »
Mélanie, commercial for her company for the past two and a half years :

« My fondest memory was the day a customer called me to place an order because he had heard about us through word of mouth. That's really nice. I only now see the change in the way prospects look at us compared to two and a half years ago. In Germany, you have to be patient, and above all, you have to keep your cool. »
To write your schedule, you can identify three phases:
1) The initial phase. Duration: one to two years
This is a minimum period that is essential to give your sales representative time to clear the ground, to confirm or not your business hypotheses, to attend trade shows and canvass, and to sow his first business. During this period, you must be able to invest time and money without charging a single cent! This stamina is the condition for success; it is a kind of implicit trial period that your prospects reserve for themselves to evaluate the solidity of your business.
THE EXPERT'S ADVICE - « At least two years to build trust »
Didier Lenhardt, salesman :

« After two years, we are beginning to see a return on our investment, we have shown that we are established on the German market on a long-term basis and that we want to establish ourselves there. »
2) The transformation phase. Duration: two to three years
It's double or nothing! During this period, your sales representative will receive your first calls from prospects asking for a quote or even placing an order. You will have to react quickly and with a lot of professionalism. This is when your investments and your tenacity will pay off. If a prospect calls, he should be able to get an answer to his question within the day. Not within a week, not the next day. If he places an order, he must obtain good market conditions, reasonable delivery times and impeccable quality. A thorough knowledge of the field is of crucial importance here.
FIELD EXPERIENCE - « I've learned to cut to the chase »
An ancient VIE tells:

« I have learned to be concise, rigorous, and to get straight to the point in my business conversations. My interlocutors expect me to have a perfect knowledge of technology and standards. »
Needless to say, your French back-office must be able to keep up in terms of production. Here again, you will have to take care of the first delivery of the product, on which you will be judged and which will determine a second order... or the probable end of the collaboration!
3) The confirmation phase. Duration: five to ten years
You have to be able to keep up with the times and be able to respond professionally to an increase in production. Recruitment may be necessary. At this stage, success depends on your ability to manage your on-site teams well. This requires good communication and therefore a good knowledge of intercultural differences. We will discuss this topic in a later chapter.
YOUR PROJECTED BUDGET
How much do you have to budget?
Here is an estimate of the costs you will face in your implementation project. Some are absolutely incompressible, others less indispensable.
We have taken as a basis for projection the case of a French SME wishing to set up in Germany to sell manufactured products.
The preliminary study
An expert on the German market will advise you on your ability to cope with the German market and suggest a suitable strategy. This will help you to determine your business plan. The export consulting day is charged between 500 and 1,000 euros. For a complete market study, the fee is between 5,000 and 10,000 euros.
Cost: between 5,000 and 10,000 euros.
Finding and recruiting a sales representative
You can of course recruit a salesperson or VIE yourself through your network or via Civiweb, the VIE CV bank. But you might as well know: the search for a bilingual French-German sales representative can be long and risky. This type of candidate is currently in great demand, and those who come forward, especially young people, do not always have the required qualities.
for a good commercial job. A recruitment agency or a headhunter will check the linguistic level of a candidate, his motivation and maturity, which condition his ability to organize himself on his own in a foreign market. A recruitment intermediary also increases your credibility with good candidates who hesitate to be hired by a company that is just starting out.
**Cost: about 10,000 euros for a sales representative, 4,000 euros for a VIE.
Domiciliation at your commercial office or in a Franco-German business centre
A very economical solution for field testing. You limit yourself to a simple postal address to give to your prospects and on your website. In a business centre, you can also benefit from mail and call transfer, with or without a bilingual virtual secretariat.
Cost: approx. 1,000 euros per year in a Franco-German business centre.
Cost of a furnished office with telephone line and Internet connection
Depending on the city, the cost of business real estate will vary from simple to triple. For a comfortable office in Germany's major cities, you can expect to pay between 10 and 20 euros per square meter, excluding utilities. A fixed telephone line, Internet connection and mobile phone package is worth around 30 euros per month before tax.
Cost: approximately EUR 500 per month or EUR 6 000 per year.
Cost of a company car
The cost of a company car for a sales representative is estimated at 7,000 euros per year. For your sales representative, choose a car that is representative without being flashy, comfortable and large enough to accommodate a suitcase and samples. If you work with a German, the choice of brand is decisive. We will come back to this in the chapter "Hiring".
Cost: EUR 7 000 per year.
Cost of a full-time salesperson
This cost varies according to the experience and specialty of the salesperson. An experienced sales representative can cost a company up to 85,000 euros per year (see the chapter on salaries below).
Cost: EUR 36 000 to 85 000 per year plus employer's charges and travel expenses.
Chapters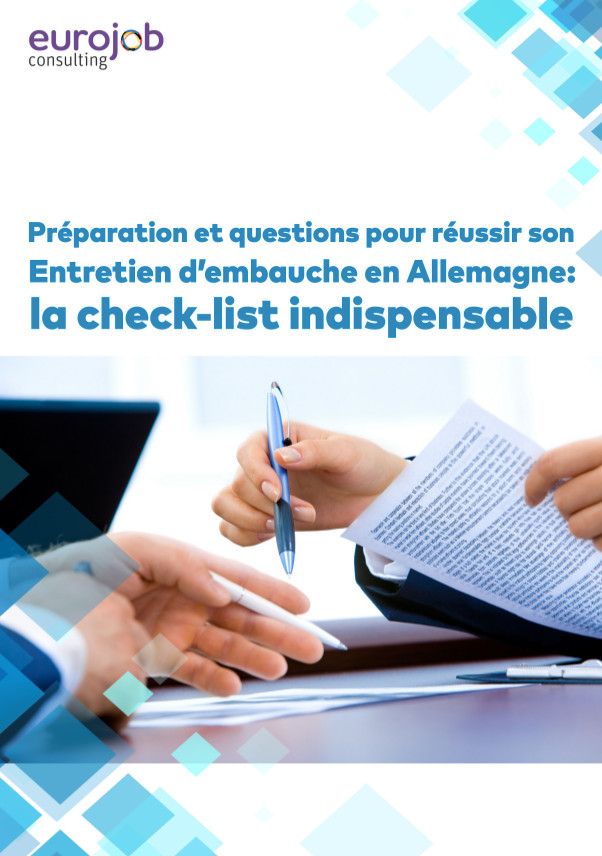 Brochure: Preparation and questions for a successful job interview in Germany (French)
About the Author
Cécile Boutelet is a freelance journalist. As a specialist in the German economy and companies, she has been a correspondent for the newspaper Le Monde since 2010. She has been very interested in this book and she has found great interest in it: she has devoted her first years abroad to creating and developing a little company.
Illustrations : Katharina Bußhoff. www.katharinabusshoff.de
---
Cost of an independent commercial agent
This salesman will bill you by the day. A part-time sales representative costs about 40,000 euros per year.
Cost: variable depending on service.
Cost of a VIE
It depends on your turnover and the duration of the mission. You can calculate the cost on the Ubifrance website.
Cost: approximately EUR 25 000 per year for a period of two years.
Cost of an accompaniment by a tax adviser
According to services and turnover. If you have a limited liability company (GmbH, see below), you should expect about 2,000 to 2,500 euros per year for 100,000 euros in sales.
Cost of the translation of a website and your catalogue by a specialized translator
As we have pointed out, a good translation of your documents and especially of your website is essential. The technical and marketing vocabulary must be precisely translated, so that your German contact person does not feel as if they are reading a translation but a German text.
Cost: between 16 and 18 cents per word for a good translation.
Cost of a stand at a trade fair
Depending on the size of the show and the space you wish to reserve, you can expect to pay between 5,000 and 8,000 euros for a two to five day show. Double the sum if you send two staff members to the event, including accommodation costs. Depending on your speciality, you may need to attend two to three shows a year.
Cost: between 10,000 and 16,000 euros per exhibition.
Summary
Succeeding in Germany requires adherence to a precise timetable. Allow an incompressible two years of prospecting before you make your first sales. This is a time when confidence is built.
Don't save money on your documentation and website, the written word plays a very important role across the Rhine.
Take care to prepare your project well with the help of an expert.
EXPORT SUBSIDIES
What can you count on
1) Ubifrance : help to learn how to "hunt in a pack."
Ubifrance is the French agency for international business development.
It is a public establishment whose mission is to help French companies to export and set up in a country with an international network. It is a standard bearer for "made in France". This is reminiscent of the method used by export companies: "pack hunting", which consists of German companies in the same sector joining forces to conquer a market.
Established in Düsseldorf, the Ubifrance Germany agency offers various services thanks to a team of 39 specialized agents.
These include:
*Le Volontariat International à l'Étranger VIE *, a service subsidized by the French government, which allows exporting companies to hire a young person at a set rate, without paying social security contributions. This system is very popular with French companies operating in Germany, as there are currently around 1,000 VIEs working in Germany, making it the leading host country for volunteers in the world. Ubifrance regularly organizes meetings between candidates and companies.
A press and communication service that helps companies to take care of their contacts with the specialist press, which is very important in Germany.
An advisory service, through specialist publications and information provided to companies on the sectors and their news in Germany.
An export assistance service, the bulk of its activities. There is a charge for these services. They can be either individual (market missions, canvassing missions carried out by Ubifrance for the company) or collective (trade shows and BtoB meetings).
THE EXPERT'S ADVICE - « We strengthen the perception of "Made in France" among German and foreign prospects. »
Patrick Imbert, director d'Ubifrance Allemagne.

« We organize 23 trade fairs per year where we set up the France pavilion. This pavilion is home to French companies and forms a kind of showcase that helps to strengthen the perception of Made in France among German and foreign prospects. »
The agency offers press services in this context and can organise meetings with prospective clients. Interestingly, it can be cheaper to occupy a stand under the Ubifrance pavilion at a major German trade fair. Trade fairs are the key to trade in Germany. In addition, you benefit from a French framework that can facilitate contacts, exchanges of good practices and reinforce a French touch image with certain prospects likely to react positively. This is particularly the case in sectors such as cosmetics or aeronautics, where French know-how is recognised.
However, in your prospecting work, be careful not to rely too much on this public offer, which remains limited in terms of resources. The 39 agents of the Düsseldorf agency are generalists who cannot meet all the demand from French companies interested in Germany, which is currently rising sharply. The wisest thing to do is to inform you about the possibilities of advice and support offered by the agency, to seize the opportunities, without giving up control of your strategy and business plan. Private consultants, generally former sales representatives or subsidiary managers with experience in a specific sector of activity and with the address book provided, are often better able to provide you with assistance adapted to your case.
2) Coface, to reduce the financial risk linked to exports
Coface was founded in 1946 under the name Compagnie française d'assurance pour le commerce extérieur. Privatised in 1994, Coface continues to provide a public service by offering financial guarantees in support of foreign trade. Its services include business development insurance, export risk insurance, credit insurance for medium- and long-term financed exports, foreign exchange insurance and investment guarantees. These guarantees cover risks that cannot be insured by the private market. In other words, if you meet the conditions of the award, you can apply for a government-guaranteed loan for expenses related to your prospecting work. This can help you to get through the famous two-year period, during which your German contacts "test" your soundness.
Check the website (www.coface.fr) to find out if you are a potential candidate for this type of device. You will have to fill out a file and, if you are selected, you will have to submit detailed annual reports on your prospecting efforts and the expenses incurred.
But then again, be careful! Benefiting from a state-guaranteed loan can be deceptively comfortable. While you won't bear the risk of failure, it won't exempt you from making a substantial investment. If your product is not competitive or if your business plan is not successful enough, you will still lose time and money, perhaps more than if you had had to organize on your own. A German company will only trust you if it feels that your approach and your situation are sound. Be sure to test your product with a professional in the German market before you start preparing a dossier.
Summary
Ubifrance can help you in your steps and offers a framework to highlight your French know-how to your customers. The agency also organizes the international corporate volunteer program.
Coface provides financial support for investment projects abroad.
These aids should not exempt you from taking care of your strategy and business plan.