How to establish your winning strategy across the Rhine
The basis of your business plan will be to specify your sales project in Germany. To do this, you need to know your competitors and their products as well as the expectations of your prospects. This last point is the most delicate because it covers cultural elements that are difficult to identify from abroad or specifications that you will have to obtain and understand. As the German market is mature and very sophisticated, there is no room for improvisation.
GET TO KNOW THE GERMAN MARKET
What to sell, to who, how ?
1) Precise your offer
A careful study of the market must be carried out, it will allow you to define your commercial priorities and possibly reposition your offer in relation to the competition and the regulations in force. Some consultants have specialised in these studies. It can be useful and economical to have this study done by one of these service providers to refine your catalogue, even if the refinement will also be done after the first returns from your prospects.
CONCRETE EXAMPLE - « Stainless steel instead of PVC »
In his consulting activity, François Gaillard is led to correct certain offers, sometimes to rethink an entire range of products. He tells us:
« One of my clients had a range of products that was very much oriented towards the French market. The Germans were asking for the same types of products but in other materials. This customer had a lot of PVC products. But the Germans wanted stainless steel, because for them PVC was synonymous with the low end of the post-war product range. Stainless steel was more high-end, the Germans preferred to invest in a nice product. So we successfully repositioned the catalogue. »
2) Specify your clientele: who should you sell it to?
As mentioned above, Germany is a federal country, where regional differences play a more important role than in France. The German Länder are autonomous for a number of decisions, for example regarding education: there is no centralised "National Education" in Germany! So depending on what you sell, you will have to pay close attention to these particularities.
CONCRETE EXAMPLE - How one company successfully took advantage of regional differences
Company L., which produces juvenile furniture, has thus had to restrict its offer to a few target regions in order to be able to cope with the diversity of standards in force. Mélanie, sales representative, explains the strategic thinking carried out upstream by her company.
« Commercially, we have focused on three regions in Germany: Baden-Württemberg, Bavaria and North Rhine-Westphalia. With the policy launched by the federal government in 2007 to create 500,000 additional daycare places by 2013, we knew that these regions would have a lot of catching up to do. These are the regions with the highest number of childcare facilities. So the market was interested in our products. We have adapted our catalogue to their specific requirements and to local standards. »
3) Specify your canvassing method: who to sell with?
An important question is to determine by which vector you will attack the German market. Depending on your product, your approach will vary and your costs will be very different. The market offers a wide range of services, from virtual domiciliation to complete prospecting work.
a) Without an establishment, with a business partner

You don't want to set up, but are only looking for someone who will sell your products in Germany. You will not have an office or subsidiary in Germany, but only a distributor with whom you will contract. In this case, a simple intermediary is sufficient. This is a solution that can be very effective, at the lowest cost, if you agree not to control the whole sales process. Philippe Menke, an export consultant, works a lot with firms in the food industry in the west of France.
« What these companies are interested in is having a good buyer. In this case, all you have to do is sign a supply contract and I act as an intermediary. I help my client to qualify potential distributors. »
CONCRETE EXAMPLE - Why implantation is sometimes superfluous
Freddy Dreher, consultant, has successfully experimented with a formula that goes further. He tells the story :
« I was discouraged by some French SMEs that were not ready to invest in an export approach with an experienced salesman. I am therefore now looking for French companies with interesting products and I am offering them an exclusive distribution contract over several years. Then I buy and resell the products to my German partners, on my own account. I do this today with a medical equipment manufacturer, with real success and at a much lower cost than what the company would have paid if it had tried the adventure on its own.. »
b) With a virtual office only

If your product is dematerialised, which you can sell via your website or if you have an independent sales representative, a real implementation is not always necessary from the outset. You can temporarily manage everything from France if you decide to have a virtual office that ensures the transfer to your company. Franco-German business centres offer this kind of service, which usually includes a permanent address with a service for receiving and forwarding your mail and faxes. Additional services may be of interest, such as a telephone line with an assigned number, automatic transfer of your calls to France and access to conference rooms for your appointments in Germany.
You can equip yourself with a virtual secretariat, a service also offered by Franco-German business centres. This service includes a bilingual hotline with real-time information transfer, punctual translations, administrative and logistical assistance, for example to open a bank account in Germany.
c) With a VIE
The VIE (Volontaire international à l'étranger) is a contract by which a company wishing to export recruits a young person under 28 years of age to carry out its commercial canvassing. The work contract lasts from 6 to 24 months. Remuneration must not exceed approximately 1,825 euros per month (scale as of 1 October 2014), the charges being borne by the State. This is an advantageous solution for the company which has a low-cost workforce to start its export activity.
The disadvantages are of several types. This type of contract is in high demand, and there is a gap between the job offer and the interested candidates. According to the Ubifrance agency, which manages the VIE programme, at the beginning of 2014 there were approximately 170 unfilled VIE positions in Germany. Then you also take the risk of sending someone inexperienced to represent your company's image. A VIE requires training, has no experience in the field, has to integrate into the country and perfect his or her language skills. All this takes time, which must be taken into account in your costs. Finally, misunderstandings cannot be ruled out: a candidate's inexperience or immaturity may be coupled with impatience on the part of your company. A VIE requires a significant investment in management.
THE EXPERT'S COUNCIL - To avoid the pitfalls of LIFE, accompaniment is the rule.
François Gaillard points this out :
« The VIE is an excellent solution on the sine qua non condition that there is an accompaniment. Usually it is either the company director or a company executive who takes care of it. Above all, it is important to avoid sending a VIE all alone in the pampas by having telephone contacts once a week, it's failure guaranteed! In some markets, the client quickly asks to speak to the company director. This is the case, for example, for capital goods. The manager must regularly visit the site and accompany the VIE to appointments. »
d) With an independent commercial agent

The independent commercial agent has the advantage of knowing the country, its structure, its language and has experience with commercial structures. He will be able to test your product and bring you the first customer feedback, in order to refine your strategy and close the first sales. He will be recruited as a freelancer and will send you invoices, depending on the agreement you will have concluded. It is therefore a relatively flexible and generally very efficient solution. What are the counterparts? First of all the price. An independent commercial agent will cost more than a young VIE. The financial risk is therefore important in case of failure. Then, if it is a German, he may have difficulty communicating with you if you have a poor command of the country and its culture, or if you have expectations that are out of step with the field.
THE EXPERT'S ADVICE – « With a novice, the bill may be salty at the end of the day. »
Some experienced professionals believe that only the independent sales agent can be effective. This is the case of Freddy Dreher, an independent export consultant to Germany.
« To conquer the German market, you have to be really professional and know the country, its mentality and adapt to the market. It seems to me to be very risky to entrust trade missions to someone with little experience. It feels like you're saving money, but after two years the bill can finally be a big one. With a potentially disastrous business history with German partners! »
THE EXPERT'S ADVICE– « How to accelerate the relationship of trust »
A recruiter specialising in the Franco-German market
« When we want to approach the German market it is better to do it with candidates who come from this market, the perception of the salesman by the customer will not be the same if we send a salesman of German or French origin. The relationship of trust will be quicker if we employ someone who is a specialist in this market.. »
Between the VIE solution and the independent trader, arbitration can be difficult. In addition to cost constraints, your company's sector of activity will weigh in the balance. Some sectors, especially technical, are less tolerant of inexperience than others...
Summary
Don't think that your product, because it works in France, is transposable as it is in Germany. Adapt your product to the German market: German tastes differ from French tastes in terms of quality and design, regional specificities can make your catalogue vary completely.
Take care of your brand image, take care in the choice of your representative: the person you recruit to represent you must be very competent on his products, you will hardly get a second chance to make a good impression on the German market.
CHOOSE YOUR LOCATION
What territorial logics?
Sooner or later, physical implantation is necessary. Even if your company is initially domiciled with your sales representative, an address in Germany will make a big difference in the way your prospects will look at you. In order to choose a location, you need to answer some specific questions that we detail below.
1) What impression will you give to your prospects?
It's obvious: your prospect's first contact with your company is your website, with your physical address and telephone number. As a foreigner in Germany, you must do everything possible to reassure this prospect about the seriousness of your business. Your choice of location in Germany is not only an indication of your knowledge of the country, but also of your investment: so be wary of locations too close to the border, which can give the impression that you are only crossing the Rhine backwards. Also forget the typically French "capital effect". As mentioned above, being in Berlin will not give you any credibility with your prospects if they are located in another region.
Any choice of location is also a message of your strategy to your customer. In Germany, the "spirit of the sector" (the large groups work hand in hand with their subcontractors) has as a corollary a specialization
geographical. Each region corresponds to one or more dominant industries, where one or more large groups carry the activity of SMEs. If you set up in Frankfurt and you are targeting the automotive or chemical industries, your prospect is likely to wonder about the relevance of your choices...
2) Where are your prospects? Where are your competitors? Where are the main trade shows? What distances?
This question should help you identify the region(s) where your industry is primarily located. Identifying trade fairs is also essential, as this is where the most important contacts will be made. Proximity is of course crucial to facilitate your sales representative's visits to prospects, attendance at trade fairs, but also informal meetings, which are just as important to "feel" the news of your sector.
Do not neglect the distances and transport times. Because of its geographical organisation, Germany has a polycentric rather than a star-shaped rail transport network, with trains stopping much more often than in France. To go by ICE (the German TGV) from Munich to Berlin, 585 km away, it will take you 6 hours! Also remember that many German SMEs are located in small towns, far from the major urban centres, which lengthens travel times and makes the car indispensable. The main railway "nodes" are located along the Rhine and its main tributaries, so it's best not to go too far away from them to save time.
THE EXPERT'S ADVICE - « The human side of accompaniment is paramount »
Jérôme Lecot, CEO Eureo Holding SAS :
« Experience shows that an isolated salesperson, especially a young VIE, exposes his or her business to an increased risk of failure. It is important to take the time to receive VIEs and young salespeople, to listen to them and to give them advice or contacts to facilitate their steps. This human side is just as important as commercial and technical support. »
4) What are the attractive locations for your employees?
All SMEs have difficulties in recruiting sales staff in Germany, even German companies with a German presence. The country's healthy economy and declining population mean that companies are competing for interesting profiles. You have to keep in mind that the less a firm is known and reputed to be stable, the more it will have to play on non-wage elements to attract its future employees. It is therefore important to choose a base that will allow them to lead an enjoyable life. Take care in choosing the region, the city, make sure that the work environment is safe and comfortable, and that your sales representative can move around easily.
5) How far from your seat?
Your company executive responsible for monitoring development must be able to travel quickly to the site if necessary, just as your sales representative must be able to visit your company's headquarters regularly. And this within reasonable timescales and at reasonable cost. In addition to the car, several low-cost companies serve Germany, which can also be reached by TGV or ICE with the direct lines Paris-Saarbrücken (1h50), Paris-Cologne (3h), Paris-Frankfurt (4h), among others.
Chapters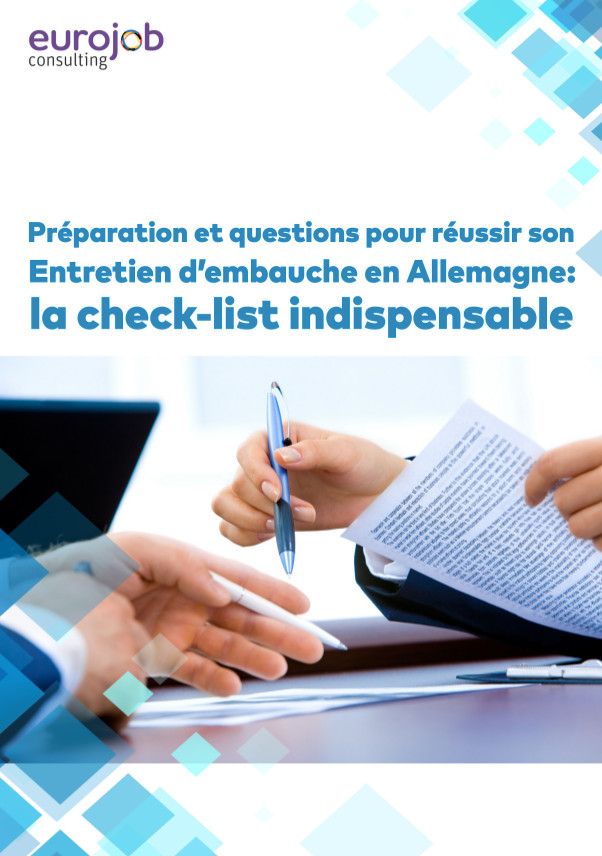 Brochure: Preparation and questions for a successful job interview in Germany (French)
About the Author
Cécile Boutelet is a freelance journalist. As a specialist in the German economy and companies, she has been a correspondent for the newspaper Le Monde since 2010. She has been very interested in this book and she has found great interest in it: she has devoted her first years abroad to creating and developing a little company.
Illustrations : Katharina Bußhoff. www.katharinabusshoff.de
---
TARGET YOUR CUSTOMERS
Brief economic portrait of the German regions
As mentioned above, the geographical organisation of Germany is very different from that of France. The German regions (the Länder) have much more autonomy than the French regions, each with their own economic speciality and identity. No universal centre as in France. The heart of economic activity is located in the south and west, along the Rhine.
1) North Rhine-Westphalia (in german Nordrhein-Westfalen – « NRW »)
The region is home to 18 million people, almost 25% of the German population. It is the most densely populated region in Germany, with the highest GDP.
NRW is the cradle of German industrialization. As in the north and east of France, Belgium and England, German industry was established close to the largest energy reserve of the time: coal. In the middle of the 19th century, major heavy industries such as metallurgy were established in the Ruhr area, close to the German coal and lignite reserves, which are still being exploited for energy today. The Ruhr is home to the headquarters of three major groups listed on the DAX (the German equivalent of the CAC 40): ThyssenKrupp (steel and manufactured goods), RWE and E.ON (energy groups). The city of Essen is one of the main cities in this region which has become a huge conurbation of 5 million inhabitants. It is home to the famous football teams of Dortmund, Schalke and Bochum. Today, the Ruhr is a victim of de-industrialisation and high unemployment, but many small and medium-sized enterprises are growing.
The rest of the NRW region remains prosperous, especially the cities along the Rhine, such as Düsseldorf and Cologne. The city of Bonn, the former capital at the time of the division of Germany, is not far from Cologne. The former public service groups Deutsche Telekom and Deutsche Post are still located here.
Düsseldorf is the rich capital of the state, its economy is very diversified and it enjoys its status as the centre of the Rhine-Ruhr metropolis. Traditionally, the city is home to numerous companies specialising in consulting, advertising, telecommunications and fashion. The city is the country's second largest banking location after Frankfurt. Finally, Düsseldorf is also the headquarters of the French Economic Mission in Germany, which can help you in your dealings.
Cologne is the most densely populated city in the region, with more than one million inhabitants. It is located on a railway and motorway junction, very close to the Ruhr and the Benelux countries. In particular, Paris can be reached from Cologne in 3 hours thanks to the Thalys. Its economy is diversified: the city is home to many companies specialising in insurance, distribution, finance, the automotive industry, machine tools, chemicals, biotechnology and the media. It is home to several major French groups such as AXA, BNP Paribas, PSA and Renault. Following the tradition
of the famous eau de Cologne, it includes some of the jewels of the perfume industry, as well as the German headquarters of the American group Procter & Gamble.
Cultural events and curiosities : Carnival is one of the highlights of life in Cologne and Düsseldorf. This popular and friendly festival has been the reputation of the region for centuries. The nightlife is very famous in both cities.
2) Along the Rhine, the powerful chemical industry
The port of Ludwigshafen in Rhineland-Palatinate is the world's largest chemical site. It is linked to the BASF Group, the world's largest manufacturer of chemicals.
who created the site in the mid-19th century. In the shadow of the giant a series of SMEs work in basic chemistry and pharmacy, but above all in high-tech chemistry, i.e. high-tech products, mainly employed in industry.
Here too, the automotive industry is a major customer of these companies, which are inventing the materials of tomorrow.
3) Frankfurt. Banks and an airport
Frankfurt is also one of the richest regions in Germany, thanks to its banking speciality. The major German and international banks there
have their headquarters, as does the European Central Bank. The financial specialisation is therefore very strong there, which means high salaries and therefore high real estate and living costs. The city also draws its attractiveness from its airport, now the country's leading international airport and one of the largest in Europe, ahead of Paris Roissy. The FRAPORT company, which manages the airport, is surrounded by a number of services: transport (Lufthansa), accommodation, etc.tique ou encore restauration.
Cultural events and curiosities : Frankfurt, a rich city, has a wide range of culinary offerings. Its museums are very famous, including the Stadl, Schirn and Museum of Architecture. Its position as a railway junction also makes it easy to take advantage of the surrounding cultural offer.
4) Hamburg. The port city
The port of Hamburg is Europe's second largest commercial port after Rotterdam, the 14th largest in the world and of course the largest in Germany. It is through it that a large number of goods from the European export champion transit. The city benefits from this windfall which makes it one of the richest in Germany. It is naturally home to the world's leading crane and shipbuilders, as well as large groups specialising in the processing of raw materials. It is also one of the production sites for Airbus. Beiersdorf, producer of Nivea, also has its headquarters here. Several renowned media are based in Hamburg, such as the magazine der Spiegel, the weekly newspaper die Zeit, the publishing houses Bertelsmann and Gruner und Jahr. The "Hanseatic City" is a good place to live, with a thriving economy and low unemployment. There is a wide range of cultural events on offer, and the presence of the port provides an alternative culture that is the spice of the city. Rents have risen sharply in recent years.
Cultural events and curiosities : The harbour festival, the nightlife around the Reeperbahn, the bars and restaurants near the quays make Hamburg a very lively city.
5) Stuttgart and Baden-Württemberg. Innovation, machinery and competitive SMEs
Baden-Württemberg is, together with Bavaria, one of the two German "model regions". Unemployment is almost non-existent. It is here that the famous Mittelstand is best represented, the fabric of competitive companies often cited as the key to the success of Made in Germany (see introductory chapter). They mainly produce machine tools and high-tech components and work closely with the automotive sector. Daimler and Porsche have their headquarters in Stuttgart, as does Bosch, the world's largest automotive supplier. This economic fabric is of course concentrated in Stuttgart, the state capital, but not only there. Many of the world's leading companies in their markets are located in villages in the surrounding countryside that can only be reached by car. The small town of Schwabisch Hall (37,000 inhabitants) is home to the world's leading German business congress! This is the characteristic of this region, which sometimes makes it difficult to recruit qualified personnel. On the other hand, the quality of life is very high. Baden-Württemberg is the region bordering Alsace, traditionally a gateway for German SMEs to the French market. The TGV serves the cities of Karlsruhe and Stuttgart.
Cultural events and curiosities : Stuttgart's museums are famous. We stay close to France, we reach Paris by high speed train in 3h40. Bars and nightclubs are sometimes difficult to maintain due to the pressure of real estate in the city centre.
6) Munich and Bavaria. Competitiveness and lifestyle
Munich is one of the German cities where real estate has increased the most in recent years. And with good reason: the city has a lot to offer! The capital of proud Bavaria is home to a flourishing economic fabric, some of the country's most prestigious universities and an exceptional quality of life, with a mild climate, a rich cultural offering, lively gastronomy and the proximity of the Alps, which delights winter sports enthusiasts. Studies regularly rank Munich as one of the most attractive cities in Germany. Munich is home to, among others, the Siemens Group and the car manufacturer BMW, which draw business from hundreds of industrial suppliers specialising in high-end products. These are spread all over Bavaria, which also includes other attractive cities such as Ingolstadt, home to the headquarters of Audi, Erlangen and Nuremberg. Unemployment is no higher than 4% everywhere. In addition to industrial and automotive suppliers, the region is known for its armaments (EADS) and electronics (Infineon) companies, as well as its major media groups (ProSieben Sat 1 and Burda). Finally, Bavaria enjoys a central position in Europe, at the crossroads between Northern and Southern Europe, between the growing Eastern European countries and Western Europe.
Cultural events and curiosities : The Oktoberfest is one of the biggest popular parties in the world, it hosts Munich for two weeks. The city also boasts some of the country's most renowned museums. The Nuremberg Christmas market is world famous. Bavaria is distinguished by its strong regional folk culture and its famous Biergarten, which create a feeling of conviviality.
7) Berlin. Culture, Internet and the cult of the ephemeral
Berlin is not a major economic centre in Germany, even though there has been significant growth in recent years. Berlin's international hype is attracting more and more foreigners and capital, which is turning the city upside down. However, unemployment is high (over 10%) and the city's industrial fabric is weak, which means that it is in a precarious situation. The city lives on the presence of the federal administration, tourism and a web of Internet start-ups that has developed strongly. In recent years, Berlin has gained in attractiveness thanks to a cocktail that is unusual in Europe: a city with metropolitan status (it is Germany's largest city with 3.5 million inhabitants), relatively low rents, and above all the great importance of culture. This enables companies in the creative sector (culture, advertising, film) to employ graduates from all over the world, especially from southern and eastern Europe, at competitive prices. However, it is still difficult for many skilled workers to build their entire careers here, resulting in a high turnover, which reinforces the city's reputation as a city "always on the move". The city also suffers from its eccentric geographical position in relation to the heart of German economic activity, located in the west. Remember that Frankfurt is halfway between Berlin and Paris, about 1000km away. Paris-Frankfurt is therefore feasible during the day by car, more difficult for Paris-Berlin.
Cultural events and curiosities : The nightlife is very intense and varied, with clubbing famous all over the world. The art scene is one of the most lively in the country, especially for theatre, music, opera and contemporary art.
The Berlin Fashion Week has been attracting fashion lovers for some years now.
8) The East, a region in the making
The Berlin Wall fell 25 years ago. In 1990, six regions of the former GDR became part of the Federal Republic of Germany: Thuringia, Saxony, Saxony-Anhalt, Mecklenburg-Western Pomerania, Brandenburg and East Berlin. Despite an enormous financial effort on the part of the Federal Republic of Germany, these regions are still heavily affected by deindustrialisation and unemployment, which stands at 9.6%, compared with 5.8% in the rest of Germany. However, a few pockets of prosperity have developed there. Saxony, with its capital Leipzig,
has been able to welcome investment to develop new technology companies.
The major automotive groups are investing in it. BMW opened its new electric car plant in Leipzig in 2013, and Porsche has been building its new Macan in Leipzig since February 2014. Since 2000, Dresden has been home to Volkswagen's famous "glass factory". Thuringia has also developed well thanks to its border with Bavaria. The Leipzig-Dresden axis is home to numerous high-tech SMEs, particularly in the chemical and electronics sectors. Saxony-Anhalt, Mecklenburg-Western Pomerania and Brandenburg, on the other hand, are still struggling. A location in these regions will guarantee you more favourable taxation than in the West and moderate rents, but it must be evaluated very carefully according to your sector of activity.
Cultural events and curiosities : Leipzig has been considered the "new Berlin" for some years now. Artists are moving there to take advantage of the (still) low real estate prices, which makes the contemporary cultural scene particularly active. Leipzig is traditionally a great musical city: Johann Sebastian Bach, Felix Mendelssohn Bartholdy, Edvard Grieg, Gustav Mahler, Clara and Robert Schumann left their mark here, Hanns Eisler and Richard Wagner were born here.
Summary
To choose your location:
Think about your prospects. Choose a location in line with your industrial specialty. This address is a sign for your customers that you are making an investment in Germany and your knowledge of the country.
Think about your salesman. The success of your implementation project also depends on its integration in the country and its ease of access to prospects.
Think of yourself. You need to be able to get there easily, especially in the first two years.