How to hold out over the long term: recruiting and managing a German subsidiary
HIRING
In order to grow, you will sooner or later have to hire a subsidiary manager or a salesperson. If you hire a German, who may be more comfortable on the
market across the Rhine than a Frenchman, some differences must be respected.
1) Recruitment. How do you convince a German sales representative to work for your company?
As already mentioned, competition in the German sales market is tough. Especially if you are an engineer, an expert in a sector with an address book, you are spoilt for choice. They may be tempted to prefer a German employer. In order to convince them, it is often a good idea to contact a recruitment agency that can act as an interface between two different working cultures. Generally speaking, here are some simple principles that you should observe:
Insist on the solidity of your company, be precise and concrete.
Assure him that your business is not going to close tomorrow. Insist on the history of the parent company, its success, the interest of the product you are going to entrust to it. Give figures: turnover, number of employees, company strategy and objectives. Be aware that a German candidate will often be more sensitive to quantifiable arguments than a French person, who will focus more on human relations. They expect you to give them a positive image of the company. Avoid overloading the job description with qualifications as is often the case in France.
Highlight the charm of France
Once you have established confidence, play on France's traditional assets. These are still very much appreciated in Germany: its culinary art, its quality of life, its climate, the possibility of skiing or seaside holidays, etc. Paris is still a dream come true!
Concrete vs. emotional: keep cultural differences in mind
A German is used to a certain type of job interview. His CV is usually very detailed and gives information about his background almost since primary school! But above all, he expects to be asked specific questions about his sector, his working methods and, above all, his commercial performance. If you like to judge a candidate on a human, "emotional" assessment, you may risk mutual incomprehension or even letting an excellent candidate slip through your fingers. So take the time to ask the person about their sales figures and how they have been achieved rather than asking very original questions that they don't expect. You will put your candidate at ease and make communication easier. Get advice from your recruitment firm.
Be very precise and reactive after the interview.
After the interview, don't leave an application lying around, especially if you liked it.
FIELD EXPERIENCE - « We have to be reactive and concrete! »
Susanne Goniak, recruitment officer at Eurojob-Consulting, testifies :

« Often the French boss, after a presentation dinner that went well, says, "I have to think about it!". But the German candidate has no time! He has conducted three other interviews close to home and has a proposal under his nose while the Frenchman is still digesting his dessert! The French company has to be reactive and concrete, to say precisely when it intends to give its answer. The German candidate will be reserved if the answer does not come as expected. »
2) The hiring process
You can hire an employee even if you do not have a legal structure.
in Germany. However, certain rules must be observed in order to avoid the creation of
without your knowledge of a de facto enterprise ("permanent establishment"), which would lead the German tax authorities to tax you in Germany. If you create a salaried job under German law in your subsidiary, you will be surprised to find that German labour law is often more flexible than French law: the trial period is six months, a dismissal can be pronounced by a small company (less than 10 employees) without any reason or severance pay, employers' charges are much lower. On the other hand, income tax, which is withheld at source, is much higher in Germany than in France.
For all legal details concerning the German employment contract,
see our dedicated data sheet in chapter 6.
3) The issue of compensation
This is often the biggest source of misunderstanding between the company and the candidate or recruiter. Gross and net are not calculated in the same way on either side of the Rhine at all. Keep in mind that taxes in Germany are levied at source, that health and disability insurance is paid equally between the company and the employee.
Depending on the family situation, church membership, location and the region where the company is located, there can be significant differences. Always calculate gross and net so that you have the net income your employee will receive in mind.

« Companies often imagine they are paying a monstrous salary and don't realize that the net is much lower than they imagined," adds Susanne Goniak, a recruiter. "You have to make sure that the salary budget is sufficient, otherwise you may not find the right candidate. ».
A gross salary as a German salesman will vary between 36,000 and 85,000 euros per year depending on experience. Underneath, you risk recruiting someone who does not
will not bring you satisfaction... or even cause serious disappointment.
on the German market.
Unlike in other countries, a German salesman will be reluctant to accept too large a share of his remuneration in the form of commission. The variable part of the salary usually amounts to 10%, never more than 20%.
THE EXPERT'S ADVICE - What cost for what salary?
Thomas Desray, financial advisor for individuals and SMEs in Germany,
identifies three recommended compensation levels for each position and shows you the cost to your company:
36,000 gross per year. That's the salary of a junior field salesman. A young person with a level bac+3, bac+4. He is on the road from Monday to Thursday and works in the office on Fridays.
Cost to be foreseen for the company (including charges): EUR 43 000.
46,000 gross per year. This is the salary of a salesman who has already had two years of VIE.
behind him. He knows the country and its market well and has customers all over Germany. He has responsibilities. He is his company's German contact person for a range of products.
Cost to be foreseen for the company (including charges): EUR 55 000.
80,000-85,000 gross per year. It's a salesman's salary with 10 years of experience, very autonomous. He masters the technical as well as commercial aspects.
Estimated cost to the company (including charges): EUR 97 000.
To calculate the net for your employee, ask your agent for advice or refer to Chapter 6.
4) In addition to salary: company car and other benefits in kind
It's well known: the Germans have a cult of the automobile. The company car for your sales representative is therefore not only an essential benefit in kind to motivate a German candidate, but also a signal you send to your prospects.
Unfortunately for the French car industry, it is better not to let your salesman drive a Renault Clio! Classical representations are very dominant: as the slogan says, across the Rhine, Das Auto is often a Volkswagen. On the model, you need a comfortable and safe vehicle, where the salesman has room to store his briefcase and possibly samples of varying sizes. "The most suitable vehicle is the Passat," recommends a recruiter. The Audi A4 is also a popular model among sales representatives. Of course, if you can afford it, your sales rep won't spit on a more luxurious sedan. But here again, be careful with your image. In some sectors, it can be a bad idea to try to impress your prospect...
Thomas Desray confirms this: "The company car is an indisputable benefit in kind for a candidate. It represents a substitute that allows the company to make a real saving on the salary". For example, instead of offering a candidate a gross salary of 47,000 euros per year, the company can offer 40,000 euros + car. In the land of the automobile, the company car enjoys a particularly advantageous tax status for companies, so much so that 30% of the German car fleet is now made up of company cars! Ask your tax advisor about this in detail, and you will save money. The petrol card is also popular, an expense that will be passed on to your company's expenses.
The other benefits in kind traditionally offered in companies are supplementary pension and health insurance. However, they are likely to carry less weight in the balance at the time of the job interview.
THE EXPERT'S ADVICE - Be careful not to give too much benefit in kind
Thomas Desray, investment consultant:

« The most important thing is the height of the gross salary. A company that gives the impression of over-reliance on in-kind benefits is not reassuring. Insurance or pension supplements only make sense when the employee stays with the company for a long time, which is not always the case for a salesperson. »
5) The right branch manager
It is difficult to ensure a good balance between a parent company and its subsidiary when they are of two different nationalities. When your subsidiary takes off and employs several salespeople plus a sedentary secretary, the question of the balance between the parent company and the subsidiary becomes more difficult to answer of the branch manager is crucial. At this stage, psychology and tact will play as important a role as sales performance or technical knowledge.
THE EXPERT'S ADVICE - Understanding each other's cross-cultural needs
Susanne Goniak, recruitment officer:

« The right branch manager is already bilingual, has professional experience in both countries and understands the intercultural needs on both sides. The important thing is to know how to convey what comes from the parent company to the team in the other country. The person must be able to use pedagogy to explain the why and how of cultural differences and the specificity of the situation. »
INTERCULTURAL MANAGEMENT
The ABCs of Human Resources Management in Germany
Even with a good sales manager, you should be interested in the general psychology of the country and the cultural differences with France. This will help you to avoid being locked into an attitude of judgment or incomprehension, and you will be better able to anticipate the expectations of your employees, prospects or customers, which is, in the long run, the guarantee of your success.
Jochen Peter Breuer and Pierre de Bartha are two experts on French and German culture. In their book, Deutsch- französische Geschäftsbeziehungen erfolgreich managen (Effective Management of Franco-German Business Relationships, Springer Gabler Publishing, 4th edition, 2012, untranslated), they identify the drivers of motivation on both sides of the Rhine. We reproduce here their table on the French and German fundamental values translated by us.
Fundamental values

| of the French | of the Germans |
| --- | --- |
| Power | Money |
| Originality | Utility/rentability |
| Challenge | Security |
| Admiration | Recognition |
| Liberty | Equality |
| Fonctionality | Perfection |
| Change | Stability/continuity |
| Pleasure | Free time |
Chapters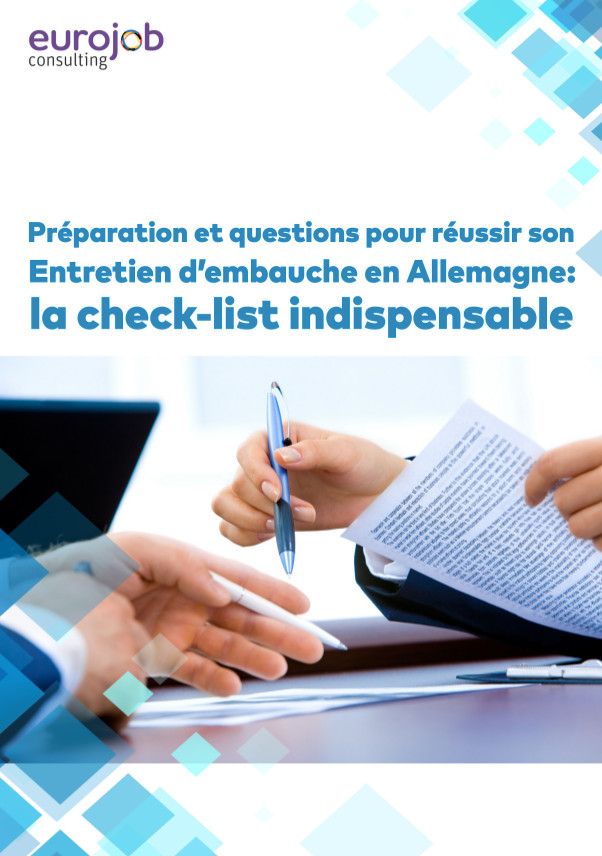 Brochure: Preparation and questions for a successful job interview in Germany (French)
About the Author
Cécile Boutelet is a freelance journalist. As a specialist in the German economy and companies, she has been a correspondent for the newspaper Le Monde since 2010. She has been very interested in this book and she has found great interest in it: she has devoted her first years abroad to creating and developing a little company.
Illustrations : Katharina Bußhoff. www.katharinabusshoff.de
---
You will notice deep differences between the two columns: to each French fundamental value corresponds more or less its opposite on the German side! Don't let this frighten or discourage you. All these values should be handled with care, avoiding over-generalizations. They can be understood as keys to decoding a business culture as a whole. The challenge is to put your interlocutor's reactions (and yours too!) in their cultural context, so that you don't judge a reaction wrongly or feel offended. If you understand your interlocutor and look sympathetically at his or her reactions, you have every chance of making a long-term business partner out of him or her!
This is the basis of interculturality, for which there are many books and seminars that we can recommend to you. The following short items are not intended to replace them.
Let us explain here the values set out in the table above.
A German generally has a more pragmatic view of things than a Frenchman. We often talk about the antagonism between reason and emotion. Where a Frenchman will be more sensitive to the emotional aspect of things, will be enthusiastic about a brilliant and original idea and ready to turn everything upside down to realize it, a German will be interested in figures, in the true and hard reality, which he likes to verify by himself and on which he will build his long-term projects. As the authors of the book quoted point out: a project presented by a German according to his values will often appear "soporific or uninspired" to the Frenchman, a project presented by a Frenchman according to his values will be judged "not serious" by the German! Many Franco-German differences stem from this fundamental difference.
Power vs. money.
Seen from France, top German managers have CVs that may seem to lack panache. No "Grandes Ecoles", degrees from universities mostly unknown to the general public, a career that has patiently followed all levels within the company. This is the case, for example, of Siemens CEO Joe Kaeser or Audi CEO Rupert Stadler. The cult of power and influence, so highly valued in France, is viewed with suspicion in Germany, as is the word "elite".
On the other hand, money and the comfort it provides are less taboo in Germany than in France, they are concrete elements of success, and there is nothing vulgar or inappropriate about talking about them. Where a Frenchman will evaluate his career by the power and responsibilities he exercises, a German will be very sensitive to the level of his salary, an element that can be quantified as a counterpart to his work. In your relations with your German employees, take care to talk openly and simply about this subject. Likewise, cost control and value for money are high on the German consciousness. A German will need a concrete and quantifiable argument to rationally justify a "pleasure" or "prestige" purchase.
Originality vs. utility or profitability.
It's a cliché of Franco-German relations. A French president, eager to restore panache to a relationship that is considered to be dormant, proposes to his or her German partner an original project that is likely to enthuse the French press by flattering national pride. The latest example to date is the ambition to "create an energy Airbus" announced by the Dutch President in January 2014. No prior joint preparation, no quantified study, no concrete details on the implementation of such a project... When asked, the German partner will politely show himself "open to anything that can strengthen Franco-German friendship". But in fact, he will judge that the proposal is out of the hat and lacks seriousness!
A German judges the quality of a project by the precision of its preparation... at the risk of sounding like a sceptic and a killjoy. Rather than being enthusiastic about something new, he always asks, "What's in it for us? Can it be financed? "Your German employee will not be happy if you overturn a long-established plan to impose a new idea that seems ill-prepared. The same goes for meetings: you will destabilize your interlocutors if you don't stick to the agenda that was set beforehand.
Challenge vs. security.
These two opposing values derive from the two previous ones. Keep in mind that a German has a natural inclination for safety, which leads him to carefully assess all risks before committing. This explains the famous German "slowness" in decision making... but also their loyalty to a supplier that has proven itself! The Germans are thus the champions of insurance consumption.
Another concrete example illustrating this risk aversion is the CV. A German application is a real dossier! You will find all the copies of diplomas, the assessments of previous employers, all the evidence of the elements put forward in the CV itself, which can be several pages long. Where the challenge tends to motivate the French, it frightens the Germans who prefer to master 100% of the elements of a project. Zuverlässig (reliable) is one of the most prized qualities of a German manager or employee.
Admiration vs. recognition.
As a logical consequence of an elitist education system, where the top of the class are congratulated by the teachers, the French like to compare themselves and celebrate their performance, to show that they are doing better than others. Even if it means attracting the quolibets of other countries that consider the French arrogant. The expression "la Grande Nation", which is found in French in the German press, is a half-mocking, half-affectionate nickname given to France. The Germans, educated in a more collaborative spirit, give more credit to the recognition of the group's performances. This is the basis of the famous consensus, which in Germany governs relations between the political parties, or between the social partners.
If each is willing to recognize the value of the other, agreement and a win-win relationship can be reached. At the individual level, the German attaches great importance to the need to "fulfil one's duty", compliance with a rule is a strong moral obligation. He is therefore much less fond of congratulations than the Frenchman. "In Germany, the absence of criticism is a compliment! In France, the absence of compliment is criticism! "explain Jochen Peter Breuer and Pierre de Bartha in their book.
Liberty vs. equality.
This is another classic example: you are at a pedestrian crossing, the light is red. No cars in sight, you cross. Bad luck: a father with his child has seen you and severely reprimands you for your lack of civic-mindedness. You have not respected the rule that applies to everyone, you are setting a bad example. As a good Frenchman, you take liberties with rules that cannot interfere with your ability to make decisions based on opportunities that arise. Germans do not understand this state of mind. The rule, especially the written one, is sacred. For a German, it guarantees equality. You understand their obsession with the letter of the European treaties... while the French often consider rules to be only recommendations.
This applies generally to what was decided by the group. It is frowned upon when a resolution taken in consensus with a team is suddenly challenged by an "inspired" leader... Take the time to discuss your strategy with your German employees and make sure they accept it. The cult of equality in Germany is also about valuing modesty, even in top management. Staying "down-to-earth" (bodenständig) and accessible when you are a boss is viewed with sympathy by employees.
Functionality vs. perfection.
What is the secret of the legendary German quality? They spend their time improving their existing products. When a Frenchman is satisfied with an "overall satisfactory" result (the important thing is that "it works"), a German will revise his product from every angle, tinker with it, improve it to get as close to perfection as possible. This German passion for detail and perfection can make French partners nervous. "The Germans do everything as well as possible, the French as well as necessary! "the authors of the book quoted. Aesthetically, this cult of perfection often involves products that give the impression of being "solid" and "durable". Think about this when determining your catalogue for Germany.
Change vs. stability/continuity.
The Germans are always surprised to see the French appetite for novelty. In politics, a German minister will often have to deal with two or three different interlocutors during the same legislature. The names of French parties change regularly... across the Rhine, the Social Democratic Party (SPD) celebrated its 150th anniversary in 2013! It's the same thing in business. Untimely changes of contact person will be viewed with suspicion by your customers, your prospects, but also your subsidiary in Germany. Where your French teams will be motivated by a management upheaval, it is more likely to destabilize your German employees, especially if it is not well explained. Here again, it can give an image of a lack of seriousness. Doing things to the end, being "consistent" is a quality that is very much appreciated by Germans.
Pleasure vs. free time.
The cliché is that the German lacks a sense of humour and loves work to the point of not knowing how to enjoy himself. This is a widely misconceived view: try to reach a German contact person in your company on Fridays after 3.30 p.m. Germans value their free time outside of office hours! They are reluctant to work evenings and weekends, to sacrifice their family life, when the Frenchman will be relatively conciliatory to come to the office on Saturdays if the company is "charrette".
Similarly, they put less "passion" into their work, which may seem like an understatement. annoying to a Frenchman but makes it easier to settle conflicts. It However, we must remain vigilant: more and more young Germans are investing more personally in their companies and nowadays claim autonomy, creativity and fun at work. Are "French" values now in vogue in Germany? If in doubt, you can surely slip these words into your recruitment interviews.
Summary
To recruit a German salesman, it is imperative to offer a good basic salary, taking care that the net is sufficient. In Germany, income tax is withheld at the base. Get advice.
Get to know Franco-German cultural differences. They will enable you to better recruit and manage your relationship with your subsidiary.
Without falling into the cliché, it is essential for your long-term success to know how to anticipate the expectations of your employees.